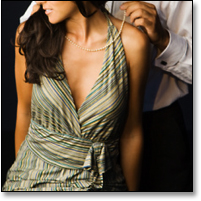 As of tomorrow, you've got one month to find just the right Valentine's Day gift.
Should be plenty of time, since you don't plan to do any shopping at all—at least, not outside your office. The women of
Burns Keith
will come to you.
Just call them up, tell them roughly what kind of jewels you're after, and they'll show up after your conference call with about a dozen rings, necklaces or pairs of earrings...in the style, and at the price point, you've discussed. (No traffic, no pushy salesmen, no retail markup—all in all, pretty win-win.)
The sisters who founded it have put time in at Sotheby's, Christie's and Bonhams, so you can be sure they know how to find the good stuff. And, assuming you like what's on your desk more than those files you're ignoring, they'll box it up and wrap it too.
They focus on antique, estate and contemporary pieces starting in the four-figure range—or if you're in the market for, say, a custom engagement ring, they'll bring in some stones for you to examine, and then they'll get to work.
While you...keep working.