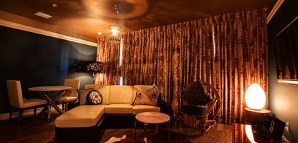 There's nothing wrong with your setup at home. (Especially now that the living-room hammock is up and running.)

You just wish you could add a few more hotel-type amenities, like room service, turndown and free buckets of beer out by the pool...

Introducing the Riviera South Beach, an all-suite hotel now open in Collins Park.

Think of the Riviera as your luxurious home away from home—the place you'll want to stay during your South Beach bachelor/bachelorette parties, or otherwise special nights out. Each one-bedroom suite feels like a mini-condo, with its own kitchen (you'll admire it from afar) and a living room with a fold-out couch that sleeps two (perfect for impromptu guests...not that you ever have any of those).

In keeping with a policy honed at sister hotels (management also runs the model-heavy Catalina and Dorset), this one offers complimentary cocktails every night from 7 to 8pm. And, for the time being, they're also offering gratis buckets of beer by the pool.

And it would be rude to say no.