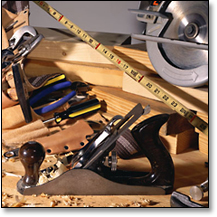 Last on the resolutions list (after
smog-check martinis
and
couch-date cardigans
, of course) is...
Well, you haven't seen the floor of your lair since long before Mickey Rourke became an Oscar contender. Clean it up—by which we mean hire someone else to clean it up—with
dClutterguy
.
A new offshoot of a service called dClutterfly, this arm is meant for tackling garages, sheds, backyards—any spot in your abode that's laced with testosterone...or was, before being overstuffed with boxes, disorganized tools and random wares of mysterious origin. (No idea how those leather blindfolds got there.) The team who arrives won't ask questions, they'll just get to work—the proprietor comes from a family of hoarders, so she's serious about her job, and she spent years as a personal assistant to a TV director, so she's seen humanity in a place much darker than your former home gym.
After a free on-site assessment, you'll be charged by the hour, and everything from chemicals to furniture will be either disposed of properly or donated to a nonprofit. And if, like one top intergalactic movie star who shall remain nameless, you are literally drowning in action figures of yourself, she and her team have taken care of that too.
So your problem is not unprecedented.
Note:
<span><a href="mailto:info@dclutterguy.com" target= "_blank"><span><em>info@dclutterguy.com</em></span></a></span>