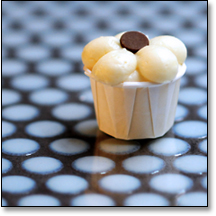 We hear the frosting on your cupcake feels like it's been carrying the whole act for too long. It's ready to go solo.
Introducing
Frosting Shots
at Sugar Bliss Cake Boutique, a three-day-old cupcake specialist in the Loop.
The concept: Ditch the cupcake. Keep the frosting. On first blush it may seem like another confectioned vulgarity better marketed to the diabetic crowd. But these cream cheese-infused dollar indulgences—served in a mess-free paper cup—are actually the creation of a Cordon Bleu-trained pastry chef, Teresa Ging. (It's worth noting that Teresa was analyzing stocks until 2006, before high-tailing it to Paris when she foresaw safe harbor in the cupcake sector. So she can spot a trend.)
You'll find a lineup of seven daily flavors piped into delicate daisy petals and dotted by a single upside-down chocolate or white-chocolate chip. (On tap today:
Banana Banana
,
Chocolate Cappuccino
,
Chocolate Toffee
, Lemon Drop
and
Orange Creamsicle
, among others.
) Naturally, you could opt for the cake too, which includes golf ball-sized versions—or even a fruit-filled breakfast cupcake.
But why?