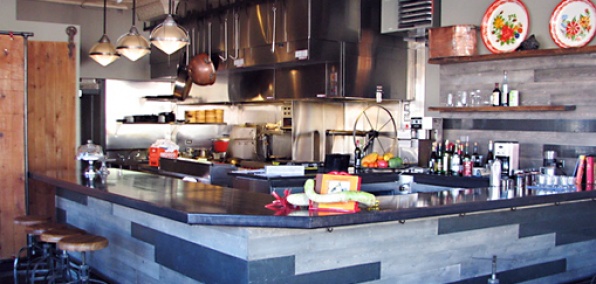 You've traveled the world in pursuit of exotic and mysterious cuisine.
Don't look now, but the cuisine seems to have followed you home.
Welcome to
Fat Rice
, an epic gastronomic travelogue disguised as a simple corner restaurant, opening tonight in Logan Square.
The owners are playing their knives close to the chest at this point—they started as chefs at an exclusive underground dining club, so it might be out of habit. In fact, we can tell you the place is a little tough to spot at first. When on the corner of Diversey and Sacramento, look for an antiqued wooden sign that says simply "Restaurante" written next to Chinese characters. Odd, yes, but you're in the right place.
Once inside, you'll be nestled in a foodie haven of just 30 seats, romantic Venetian candles on long tables and chopsticks on your plate. From the looks of things, you'll have the vague feeling you're in a 1940s Chinese restaurant. You're not.
Actually, your night may start with salad
with Iberian ham and Padrón peppers
, yet turn to pot stickers with pork, shrimp, Chinese chives and black vinegar. Soon, you'll be lost in a land of arroz gordo (aka fat rice), a dish made with everything from turmeric chicken and Portuguese sausage to roasted pork and salted duck.
It's rice for meat lovers.