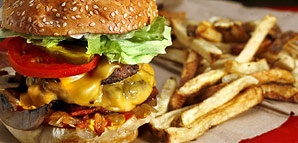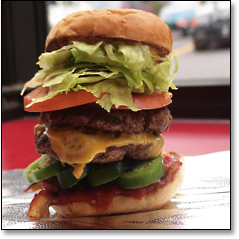 Occasionally, the sizzle of a new burger joint is deafening. Throw in the crunch of free peanuts, and you've got something really irresistible.
Introducing
Five Guys
, now serving in Lincoln Park. The Virginia-based burger chain cleverly opened its first area shop in Oak Park last month, generating substantial pre-buzz for its strict no-freezers-allowed policy (don't worry, you won't be frisked at the door or anything) and liberal all-the-fresh-peanuts-you'd-like culture.
First the beef: Shipments of the never-frozen beef arrive several times a week from the East Coast, while Virginia-baked buns arrive three times a week via UPS. The menu's pretty simple (mostly burgers, grilled hot dogs and crispy skin-on fries), but the hand-formed, juicy burgers come with all the free toppings you'd like. The usual condiment suspects (ketchup, mustard, pickles) are rounded out with nice surprises like green peppers, A1 sauce and jalapeños.
Then the nuts: Enter the red-and-white space, seemingly modeled after a 1930s butcher shop, and you'll see sacks of Yukon Gold potatoes topped by open peanut bags. The potatoes/peanuts actually form a little wall that you'll follow up to the counter—snack on the nuts while you wait and toss the shells on the floor.
Think of it as an exit strategy.