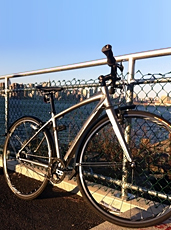 Quick. Let's see who can make the biggest understatement...
Okay, here we go—it's been tough to get around this week.
We win.
But we've got you covered.
Get familiar with
Liquid
, your new friendly neighborhood bike-sharing site, ready to roll you into those hard-to-reach neighborhoods right now.
This thing is essentially Airbnb for bikes. You can rent them from good-hearted people who want you to be able to get where you need to go. Or you can rent them
out
for what we're sure will be low, low, not-at-all-Sandy-related prices.
Let's say you want to see what's still open and unloading beers at spoil-proof rates in the East Village. You'll sign up for this site and opt to rent. Enter your zip code when asked, and then take a look at your options.
Along with some surprisingly glorious bike porn, you'll get some vital bike facts—seat comfort, name, its era of origin (hold out for the '70s Huffy), its type, what songs it likes to be sung and how much it'll run you by the hour, day or week. When the perfect velocipede has called out to you, hit that "Rent This Bike" button and pick it up.
Or you could offer
yours
up to the masses. Set the price. Tell them how to treat her right.
Because if you love something, set it free...