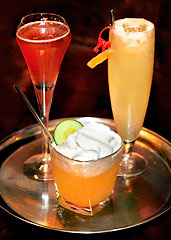 You've got a real problem with the Roger Room.
Sure, the crowd is good. And the drinks are great.
But there's one tiny, nagging thing: it's not in your living room.
Behold the mobile splendor of
The Roger Room Cocktail Catering and Bar Service
, the new way to get the Roger Room to pour out some good stuff at your place, available now.
Say you're throwing a party some night soon, maybe of the holiday-party variety. Could be a little get-together for 50 around your tree. Could be a blowout for 2,000 on the field at Dodger Stadium. (You know a girl who knows a guy.)
Either way, these guys are now willing and able to handle the booze component for you. Call them up and choose which of their three cocktails you want to serve, and for a flat rate (tip's included), they'll bring enough barmen, bow ties, glassware, ice and booze to keep those drinks flowing for four hours.
We're thinking you request some
Old Sports
—made with gin, black-tea-infused lychee liqueur, and cucumber and lime juices—then get back to whatever you were doing, and know that they're working on procuring an almost offensive amount of tea.
They know a guy who knows a girl.