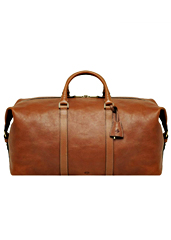 You're full of stories. Some of them are even true. Some of them also require a prop.
Preferably something that's built to last, but still breaks in as a result of all your adventures.
Mulberry
, the first local outpost of the 40-year-old bastion of English leather finery, might be a good place to start. It's now open in Tysons Galleria.
This is a nice-looking place in a nice-looking mall. So there's that. But you're here for the kind of bags, gloves, iPad cases and luggage that can take 200-plus hours to make from English cowhide. The kind of stuff that lasts forever, collecting tales along the way. Maybe like these...
There was that time you dropped the dime on some unsavory people to the FBI in a park. Good thing you had a vegetable-dyed briefcase with backpack straps and a postman's lock for extra security.
Then there was the time when those unsavories came after you. You grabbed all you could carry and stuffed it in your leather, suede-lined duffel with a hidden padlock—supple, but durable enough to keep your stuff safe while you hopped a fence or two.
And let's not forget the
Brynmore
, a leather messenger designed with a MacBook in mind, with built-in ventilation.
And that time you took your laptop to the coffee shop with it.