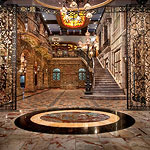 ON THE BAYOU
The Cruz Building
Legend has it: The spirits of diners past still sip the occasional bourbon here.
Tricks/treats: Three floors of 19th-century New Orleans architecture, a 40-foot mahogany bar and a rooftop terrace complete with twin lion sculptures (on loan from Gozer, god of destruction).
For channeling: The Deep South: men in seersucker, women in beaded gowns and some very hospitable undead.