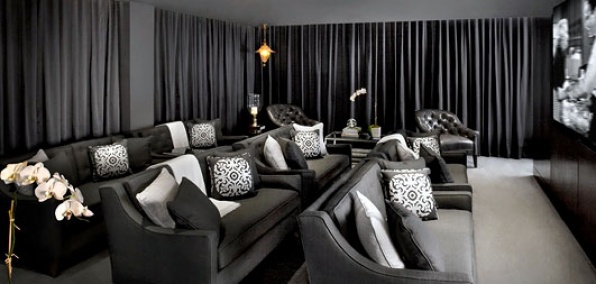 There're certain things you expect from a night in a hotel.

A private screening of The Master with a box of Jujubes: not one of them.

Well, perhaps it's time to adjust your expectations.

Introducing the Delano Media Room, a brand-new, 20-seat private theater that's complete with bar service (and fully rentable), launching movie night this Monday in South Beach.

Right, the Delano. You're familiar (mostly with their pool). Well, now they're getting into the movie business. And they're doing so with an 800-square-foot theater dripping with chandeliers, loaded with gray leather couches and equipped with an 85-inch screen.

So the theater fits about 20. Which is good to know when you're looking to rent a spot for your next Dolphins viewing party (the astroturf for your living room won't be installed for another three weeks). Or to find a place that can get their hands on liquid butter.

If you're thinking of testing this out for a date, try swinging by for one of their movie nights (they're every other Monday). You'll cozy up on a couch with a couple of Inglourious Basterds (that's spiced rum, St-Germain, lime, mint—not Pitt and Fassbender), gratis concession-stand candy and, well, a flick.

The only catch... you'll need either an invitation or a hotel room to get a ticket.

But you can try Fandango.