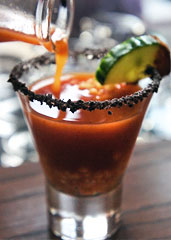 The weekend Bloody Mary. Sturdy. Trusted. Great at brunch.
Better at dinner.
Even better with meat-flavored vodka.
And at its absolute zenith: at dinner, with meat-flavored vodka and liquid-nitrogen beer ice cubes.
Here to confirm your long-held suspicions of this particular pyramid of greatness, the
Burnin' for You Bloody Mary
, a stunning advancement in savory cocktail technology from those mad geniuses at iNG, available now.
This is part of their current heavy-metal-inspired, six-course tasting menu. (Obviously, one needs
something
bloody to go with the Metallica course.) But say you're just strolling by one September evening and the whim for some high-tech brunch cocktail hits you: you'll be able to order à la carte.
The foundation is pretty straightforward: tomatoes, onions, celery salt, paprika, something kind of spicy and something kind of salty are all pureed. Sunday Morning Brunch 101 stuff. But then there's that vodka. The linchpin. A linchpin that tastes like it was imbued with the Spanish version of a Slim Jim. Chorizo.
And because your usual make-your-own-Bloody-Mary spot still refuses to stock liquid-nitrogen tanks, iNG is toying with an experimental sidecar/ice cube that's essentially caviar-sized pellets of dry-ice-frozen Founders Centennial IPA.
Beer. In its most natural form.