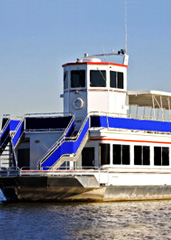 Labor Day. The ultimate day of leisure.
A day dedicated to doing absolutely nothing.
Or, better yet, a whole lot of something.
So what you need: a massive venue where you and a bunch of friends can eat, drink, dance and otherwise celebrate your federally mandated right to relax.
And ideally, it should float.
Meet
Star of Texas
, a two-level party boat (nay, party yacht) that'll host you and 199 friends on Lake Lewisville, available for rent this Labor Day weekend.
This is kind of like merging an Uptown block party with a pontoon boat. That's because the huge main cabin gives you plenty of space for... whatever (we're thinking combination dance floor/bocce ball court). Plus you'll get a kitchen, two wet bars and an entertainment center. But also: a ship captain.
So here's what you'll do. First, reserve the yacht. Then, round up your friends, some of your friends' friends and possibly a few random onlookers from the dock. Now, hook up your iPod to that entertainment center, set your playlist to "maritime" and head for open waters. That's when the topside sunning/fishing/technically legal craps game begins. Also, the buffet.
See, the boat's got Sneaky Pete's (the beach volleyball and shrimp basket guys) signed up to cater. Give them a call in advance, and they'll let you set your own menu.
Of course, you could always just helicopter in some takeout.