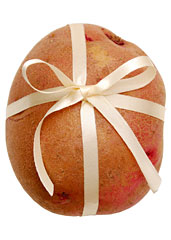 They say a picture is worth a thousand words.
So a potato must be worth...
Find out with
PotatoParcel
, a local operation that's shipping potatoes with personalized messages to recipients around the country, online now for all your tuber-related gifting.
This is the story of a guy. A guy with an idea. An idea to anonymously send your friends, your enemies or anyone else a potato. A potato that's personalized with a message of your choosing. Because... well, why the hell not.
All you need to do: hop on the website, pick a large- or medium-size potato and input your message—140 characters for the former, 100 for the latter. It'll be handwritten on the potato and sent on its way in a nondescript package.
Here's a quick brainstorming session to get you started.
"Congratulations on your wedding/promotion/baby/other. Here's a potato."
"Happy belated birthday. I'm sorry your gift is late. I'm also sorry it's a potato."
"If found, please return to Idaho."
"Congrats on going carb-free."
"Bake at 400 degrees for one hour."