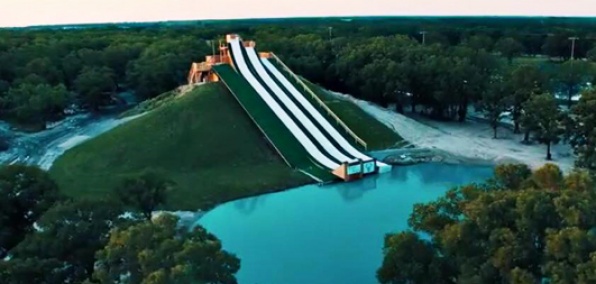 There are many ways to celebrate one's independence.

For example: hurtling headfirst down a 120-foot waterslide.

Which... makes fireworks seem a bit lame by comparison.

Sign a waiver for Royal Flush, a provider of aquatic thrills via what is perhaps the world's most important waterslide, open now at BSR Cable Park in Waco.

Herewith: your five-step guide to success.

Step 1: Gather some friends and drive to Waco this weekend. That's not something we'd typically say, but for the purpose of this exercise, it's vital.

Step 2: Buy a day pass, because you'll want to do this more than once.

Step 3: While wearing something nautical (a swimsuit, not, like, boat shoes), climb to the top of the 60-foot structure.

Step 4: Choose your own adventure. Each slide is 120 feet long with varying degrees of liftoff. So you can shoot gracefully into the water, soar into the air or soar even higher into the air, whereupon you'll perform some kind of acrobatic stunt before descending into the pool below.

Step 5: Ensure nothing's broken. Then shout something joyful, climb out of the water, break for a corn dog and prepare to do it all over again.

This is probably what Thomas Jefferson envisioned.