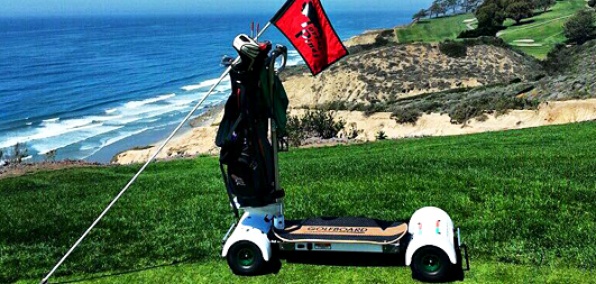 Mark Twain said: "Golf is a good walk spoiled."

We say: "Golf is an excellent opportunity to hone your skateboard skills."

Wrap your head around the GolfBoard, a new means of playing 18 that'll have you zipping around the course on a battery-powered skateboard because... that sounds fun. They're available now at the TPC Four Seasons.

Let's field some questions.

Q: Wait, what?
A: Yeah. It's kind of nuts. Imagine a skateboard merged with a Segway for the purpose of transporting you around a golf course. That's this thing.

Q: How do I obtain one?
A: Just make a tee time at the Four Seasons, and request one instead of the traditional cart.

Q: But how does it work?
A: Four wheels are affixed to what's essentially an electric skateboard with an upright bag holder. There's a hand throttle to make it go (you can choose high speed or low speed), and you steer by leaning left or right.

Q: Why would anyone ever select low speed?
A: Fools.

Q: Couldn't I just ride in a regular cart?
A: Yes, but then you wouldn't be skateboarding on a golf course.