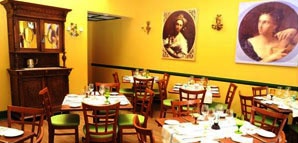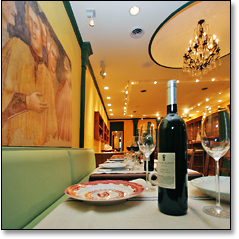 It was never about corporate jets or skyboxes. It wasn't even about shaved foie gras on your lobster risotto. The
dolce vita
has always been about you.
To wit:
La Trattoria del Merlo
, proving you don't need truffle oil to have a good time. Owners hope to open next week in Lincoln Park, though the exact day remains a moving target—just consider this a preview of the Italian magic to come.
Completing a Bolognese trifecta for chef Giampaolo Sassi, who provided you the requisite Italian ambience for your nights of romancing at Merlot Ristorante and Merlot on Maple, his amore now comes with a kiss of down-home Italian. The front bar boasts a rotisserie, helping you imagine what could have been if Kenny Rogers had only been born in Bologna. But you and your date will prefer a banquette in the dining room, with its attendant sparkling chandelier and warm buttery walls, perfect for stoking various appetites.
The menu keeps Sassi's renowned culinary extravagances in check, forgoing veal tenderloin and eight-hour braised osso bucco in favor of
Tagliata di Filetto di Manzo
, a $22 beef tenderloin tossed in a prosciutto pine nut sauce, which happens to be the menu's most expensive item.
Sometimes you have to know when to hold 'em...