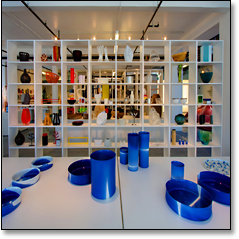 Ah, the pop-up store.
Fleeting, ephemeral, falling as quickly as it rises.
You love a good one. But by now, you've sort of been desensitized. (Been there, popped that.) You're looking for a pop-up with a little more to offer. Something like...
LuminaireX
, now open in the Design District.
Think of X, which culls many of your favorite modern-design retailers, as your one-stop, limited-time shop for everyone on your list this year (and that list better include your own name). Your first stop is the Lavazza coffee bar, where a complimentary espresso gives you a nice buzz to debate the merits of an Eames desk chair versus a Ron Arad molded-plastic rocking chair (always go molded-plastic rocking). Moving through the airy showroom, you'll browse Japanese uber-cobbler Mihara Yasuhiro's limited-edition Pumas (Asian streetwear at its finest), fashiony housewares from Philippe Starck and Jasper Morrison, massive flat screens from Bang & Olufsen and funky garden offerings from botanical purveyor Flower Bar (a bonsai will be perfect for your ex).
You'll also want to check back with the space in the coming months, as they'll be hosting wine tastings, chef demonstrations and rotating exhibits. This week they've got chairs from Brazilian superstar-designers the Campana Brothers, who'll also be on hand for a reception this Friday from 4-5pm.
Beat that, Sharper Image.