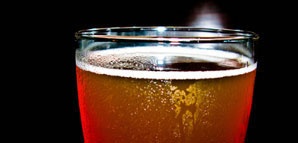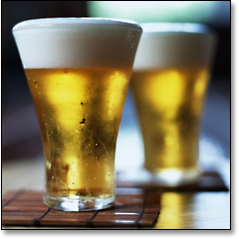 Beer helps you unwind. Sometimes you imbibe it, though you've been known to
apply it directly to your skin
in a pinch. But some weeks—and we think this may have been one of them—your beer-relaxation ritual needs something slightly more extraordinary...
Introducing
The Chronic
, a hemp-charged beer rolling out Monday at Wicker Park brewpub Moonshine. It's just what you need to help facilitate your post-work mellowing-out process.
We should say right up top that Moonshine's onsite brewer, the Reverend Bob Kittrell, swears on a stack of holy bibles that the small quantity of organic hemp seeds he uses in making this brew are sterile. So the only "high" you'll get is purely the fermented-hop kind. (And if you can't trust a minister from the Universal Life Church to serve you sterile hemp beer, who can you trust?)
Indeed, at its heart, the Chronic's really just an American-style pale ale, and your finely tuned palate will probably be more appreciative of the subtle, nutty undertones the hemp provides to Midwestern hops and Oregon malted barley than to any imagined psychotropic effects.
Still, despite its local roots, we think this brew has the power to make you think of far-off, exotic places.
Like Jamaica, for instance.