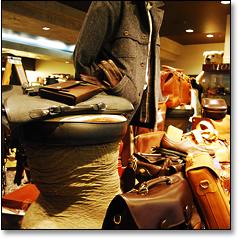 The online shopping experience carries with it certain...benefits.
Browsing cardigans suddenly sounds less drab when you can also watch a little
SportsCenter and enjoy an Anchor Steam in the comfort of your own home.
 
But instant gratification is hard to beat, and when you can get the perks of home (beer, TV) along with that new cardigan, it's probably worth a look. On The Fly, the first real-life location from the online men's shop of the same name, opens today in the Embarcadero Center.
 
You probably already frequent the On The Fly website when you need to stock up on staples like Truefitt & Hill shaving cream, warthog-tusk wine openers and khakis. But to find the real-life store, head down to the Embarcadero and look for the "Gentleman's Hog" (a custom navy-and-white-pinstriped Harley) parked outside.
 
When you step in, don't be surprised by the ten-foot Kodiak bear, giant walrus head mount or elephant-leg stools scattered amongst the Ike Behar button-downs, Agave jeans, Mulholland bags and desktop humidors. (It's the sort of hunter's lodge-meets-high-end men's store that Bond might enjoy if he shopped.)
 
Of course, your choice of beer, bourbon or espresso is at the ready, along with plush leather chairs, and at least one of the four flat-screen TVs is always tuned to ESPN.
 
Just make yourself at home.