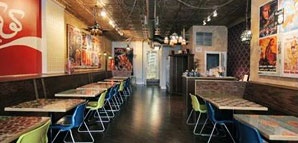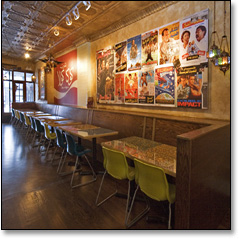 You've done the whole '80s retro thing. It's time to expand your cultural reference points. Say, with a side of hummus.
Introducing
Chickpea
, blending Middle Eastern exoticism with the atmosphere of a mid-1980s video store. (A random meeting, yes. But one long overdue.)
While you probably won't be able to read the Arabic-language Coca-Cola sign, we're confident you'll get the gist of it. Same goes for the hand-painted movie posters for American classics like
Death Wish 3, Rocky IV
and
Double Impact
covering the walls. Consider it Van Damme chic.
As design reference points go, this one seems unlikely from owner Jerry Suqi—he was the mastermind behind your onetime homes away from home, the now shuttered luxury lounges Narcisse and Sugar, and the designer of your favorite Belle Epoch-themed cocktailing den, Pomme Rouge.
Here, instead of cocktails, Suqi's mother is in the kitchen whipping up family recipes for kebabs, baba ghannooj, garlicky
thoom
and of course the must-try signature hummus, made from the namesake legume.
Chickpeas
and Van Damme. We smell sequel...