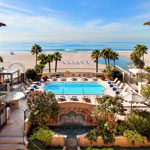 BY THE BEACH
Casa Del Mar's Beachside Pool
The pool: Big, blue... and 20 steps from the sand.
The way in: "Club Casa Del Mar" memberships grant year-round pool access to nonguests. And 25% off massages inside. Those aren't bad either.
The best seat: At the head of the pool (facing the beach) at 2:28pm—high tide. Check out those waves.