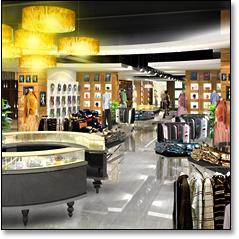 The shopping date: one of the most challenging in your oeuvre (right behind opera night and meet-the-girlfriends night). There's so much standing around and purse holding, so little cocktail sipping.
But that's all about to change.
Opening at the Aventura Mall this Friday is
Lounge
, a place that encourages you to booze while you shop with an atmosphere that lives up to its leisurely name.
The New York clothing emporium transports a clubby feel to its new less-urban surroundings, so expect pulsing house music and dramatic lighting. It's hard to forget you're at the mall, but brick walls, antique fixtures and wood paneling manage to conjure the store's Soho roots. Out to redefine retail, the store also includes elements of an art gallery, a jewelry boutique and an outdoor cafe where you can refuel with gelato, coffee and a full bar.
Both men's and women's designer threads will be available, so there's plenty for you to do while your lady friend peruses tables of skinny jeans. Best to direct your attention to heretofore hard-to-find gear in Miami like leather blazers from British motorcycle-influenced line Belstaff (just like Bruce Wayne's in
The Dark Knight
) and iridescent safari jackets from Himalayan-expedition outfitter Moncler.
Either should work for your much-anticipated meet-the-CIA-retired-father night.