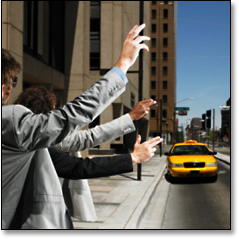 So you're stuck in traffic. Again.
Can't help but think a comely co-passenger who just
happens
to be going your way might spice things up a bit. Which is why you might like to turn your car into a taxi with the help of
Avego
.  
You can sign up now to register for Avego's
iPhone application, and once it launches, Avego will turn your phone into the equivalent of a cab driver's CB. The GPS system knows and remembers your regular routes, so when you're headed to the office—or the bar—and feeling generous, Avego will match you with another earth-minded user who wants to join you. You'll get notification of a match, and directions toward an Avego-approved stop. The rules decree that your passenger will split the gas, so in terms of pocketbooks and carbon footprints, everybody's a winner. (Just don't expect a tip.)
 
Of course, if your generosity only applies to passengers of a specific gender, with a specific hair color, who may or may not remind you of January Jones, well, everybody on Avego has to fill in a bit about themselves, including a photo. (They're hoping, we guess, that the Facebook-ish qualities and the earth-friendly slant will filter out the less-ideal passengers.)
 
After all, on the 405, you'll have plenty of time to get to know each other.