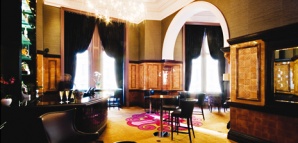 James Bond may have spent many sleepless nights in the MI6 headquarters. But he never got a room inside.

London's hallowed Whitehall Road (the Pennsylvania Avenue of the UK) has no shortage of government intrigue: 10 Downing Street, the old Scotland Yard and the Admiralty all run down its spine. But Whitehall Court is one of its few civilian establishments. A chateau-style behemoth that's dominated a stretch of the Thames waterline since the nineteenth century, it's been home to Russian Grand Dukes and British lords, George Bernard Shaw and William Gladstone. And this week marks its debut as the newly revamped Royal Horseguards, London's latest and greatest historic hotel.

While the Horseguards has everything you'd expect from a five-star joint (surround-sound iPod stations, reputed restaurant downstairs), this proper British establishment keeps a few things under wraps. MI6 convened on the eighth floor during World War I (even in wartime, the Brits in power saw no need to rough it). And the hotel now includes the adjacent former home of the National Liberal Club, one of the city's most elegant clubhouses—that's rumored to have a secret passage to the Ministry of Defence.

Always nice to travel with a little backup.