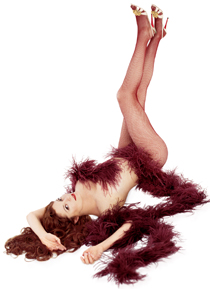 Finally, you can get back to thinking about the truly important things in life.  
You know, like
Hollywood's most famously alluring women...who all seem to have misplaced their clothes. The book of Hollywood Pinups is now on sale.
 
As you flip through the pages, you'll find Vendela in lingerie, Christie Brinkley in camo and combat boots—all the girls are looking classy, but almost all the clothes are painted on. Literally. Mastermind photographer Timothy White shot most of them wearing nothing but a smile (lucky man), then digitally painted on the clothes after the fact. Which means, of course, that as you continue your search for the pages featuring Molly Sims, Rose Byrne and (oh, alright) Denise Richards, you can assure yourself that this isn't smut. It's art.

While you may be cursing White for Photoshopping on some underthings, it's hard to argue against some digital trickery given the results—as you read this story you are currently, for the record, soaking in a still-got-it Susan Sarandon. And if you don't consider the book's very existence a noble enough endeavor, all White's proceeds go to Oxfam.
 
Time for Hef to step up his game.