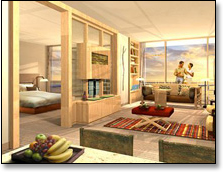 After last night's Obama-tinis, you could use a little detoxing.
So why not shed the effects of a tough campaign, not to mention quite a few years of hard living, at the new
Canyon Ranch
hotel, opening Friday on Miami Beach.
Employing their trademark booze-and-sugar-free brand of self-renewal, the Ranch will tempt you to leave Miami's debaucherous ways at the door. In addition to two oceanfront pools and dapper all-suite rooms, there are super-individualized one-on-one physician and nutritionist consultations (or "shamanic journeys" for some earthy healing) and a two-story indoor rock climbing wall to sweat it out.
But you'll want to spend most of your time at the palatial 70,000-square-foot spa, offering holistic massages (you'll be spending a lot of time in a bathrobe and slippers) and the patented Aquavana
Thermal Suite
. A veritable playground of treatment pools and lounges, there's a rooftop hot tub, an herb-scented steam room and a pebble-floored igloo, where you're encouraged to breathe in the arctic menthol-scented air...and breathe out a decade's worth of cocktails. It all ends with a cooling downpour in the experiential rains room.
Luckily, this cold shower has room for two.