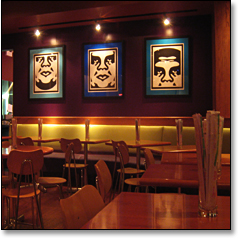 Like Luther Vandross' voice or a woman's touch, comfort food has a way of soothing one's soul. We're just glad your particular soul is still comforted by bubbly and oysters.
So get comfortable with
Mantou Noodle Bar
, a dirt-cheap pan-Asian spot that dabbles in shellfish, now quietly open in Bucktown. (Full disclosure: While owners get the kitchen up to speed, they're keeping the hype on the DL, so go now—we think word's going to spread fast.)
As you enter a dimly lit space enlivened with an indie rock soundtrack, you'll find the best seat at the stainless steel bar—which also gets you closer to the day's mix of East and West oysters sitting on a bed of ice. The quirky wine list features a nice Varichon et Clerc sparkler ($32) to go with them.
But if it's sake you're looking to pair—and Mantou has plenty of that, too—try the doughy northern Chinese buns stuffed with succulence like barbecue pulled pork. There are also five rice dishes (including Berkshire pork-sweet potato curry) and four noodle dishes (like rice noodles with Vietnamese meatballs) that are among the best values you'll see this year—nothing's above $12.
Consider it comfort food for your wallet.