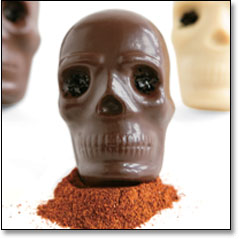 You've always been generous with trick or treaters. It's why your place is the most popular one on the block. (That, and the fact that single moms love you.)
But we won't tell anyone your little secret: You stash the best stuff for yourself.
That means Vosges Haut-Chocolat
Day of the Dead Skulls
. They're solid chocolate versions of those traditional
Día de los Muertos
sugar skulls you've picked up (among other treats) on your excursions to Mexico. Unlike candies filled with refined sugar, these are made with real chocolate, so they'll suit a palate that's grown accustomed to more exotic sensations and spooked by trans fat (that would be yours).
The skulls are available in three flavors. You'll like the creamy coco butter
Blanca
, made with Venezuelan chocolate so fine it could make George Bush dance with Hugo Chavez, and the sweet-and-smoky milk chocolate
Barcelona
, finished with Spanish almonds and accents of sea salt for a sultry counterpoint.
But approach that fiery ancho- and chipotle-infused
Red Fire
with maximum caution. This blend is spicy enough to wake the dead.
Or, depending on when you use it, the neighbors.