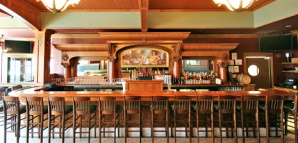 There's just something about a good nude that always makes you smile.

So you'll be grinning ear to ear at The Century Public House, soft-opening tomorrow in East Rogers Park. The pub's part of the newly restored Morse Theatre, a 1912 vaudeville house that—after a $6 million overhaul—reemerged this month as the city's newest music venue.

The star on the pub side, however, is the voluptuous hand-painted Rubenesque beauty above the meticulously carved bar. Staring out from her Art Nouveau stage, she conjures a time when Chicago pubs were unapologetically the working man's refuge.

Don't get us wrong, you and a date will obviously want to make this elegant space your pre-show destination. Grab a booth, cast with an amber glow from a single Deco-style lamp, for a quick burger and craft beer.

Even when the show doesn't spark your interest (there's still Jeff Daniels tickets available for tomorrow, fyi), the comfort food will warm autumn evenings nicely, with sustainable/local chicken, pork and beef, and Great Lakes-fished seafood.

But the nights when you just want a seat at the bar, sampling a scotch or bourbon flight from the extensive list, are when you'll find the place is at its best.

Just sit back, sip and appreciate the art.