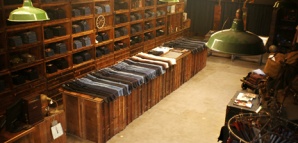 You hate to brag...but yes, it's fair to say your body has been recognized as one-of-a-kind.
 
So in Los Angeles especially, it could use some one-of-a-kind jeans. Welcome to The Earnest Sewn Co., the label's first West Coast shop, opening today in Malibu.
 
In the well-moneyed Country Mart right next to Nobu, you'll find an incongruous musty garage that's neither musty nor a garage—it's actually your newest go-to shop for a natty but low-maintenance look that says you're equally adept with a wrench and a surfboard. (Which you are, obviously.) But if you want to avoid looking like all the other wrench-wielding surfers, you can build your jeans from scratch. Just flip through the modified '30s accounting book to select fit, wash, rivets, buttons and stitching color—then your signature will be embroidered into the inside hip pocket, a subtle touch to be seen only by the person who removes them. (Which may or may not be you.)
 
Of course, if you've lost some money in the denim market, they've got loads of the more reasonably priced standard jeans too—as well as V-necks, linen button-downs and non-Earnest Sewn goods like Moscot sunglasses (like Persols, but not) and thick Woolrich blankets for, we guess, those frigid SoCal nights.
 
Which are coming any minute now...