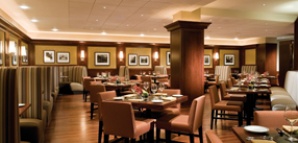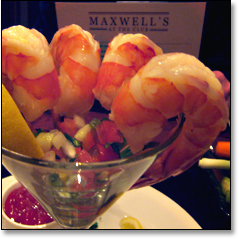 You've been meaning to get to the gym. You just need a little incentive.
A plate of tangy, saucy ribs with a side of hand-cut fries should do the trick.
Introducing
Maxwell's at the Club
, the newly remodeled restaurant at the East Bank Club. It soft-launched last week and—though management's keeping this on the down-low—for the first time, it's allowing non-members in to eat.
Pretty magnanimous of a fitness center known for its legendary membership rolls, where Chicago's A-List (or O-List, since sightings of everyone from Oprah to Obama are legendary) come to sweat and schmooze. But the nameless restaurant that served the club for years was due for a shakeup—and a moniker.
So at Maxwell's you'll find a richer, more tailored space, but the same attention-to-detail service. It's a perfect spot for you to impress clients over dinner or lunch. Black-and-white images of Chicago's trellised bridges accent spacious cushioned booths, allowing you to spread out as you work deals over colossal shrimp cocktails, crispy thin-crust pizza or a 10-ounce prime beef steakburger.
You'll find it amusing that that menu spells out the nutritional content of dishes like
Whole Wheat Linguine
(402 calories, 6 grams of fat, 64 grams of carbs) but stays mum on fat content of dishes like the
Lobster Risotto
and
Filet Mignon
with optional lump-crab-and-béarnaise topping.
Some things are better left unsaid.