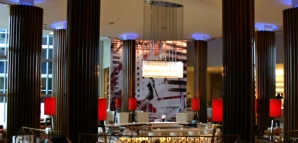 You love Miami's present as much as its storied past.
 
And no hotel epitomized Rat Pack glamour quite like the Eden Roc. But like all things in Miami, it needed a facelift...
 
Now, a year and half and $200 million later, the retro-swank hangout for luminaries like Sammy and Deano is open again, ready to mix you a mai tai poolside.
 
The renovated hotel has nearly doubled in size (thanks to a new oceanfront tower) but retained most of its vintage charm. The original Morris Lapidus-designed resort is where you'll want to spend most of your time: Kick back with a martini in the spiffed-up circular lobby bar flanked by white leather stools. You'll notice the iconic Brazilian-wood columns are still intact and a live piano player still lords over the shiny terrazzo floors every night.
 
After cocktail hour, head to Gio, a Napa Valley-esque white-tablecloth affair serving simple Italian food using mostly organic ingredients sourced from farms in Homestead. An upscale Asian spot is on the way and the boardwalk patio restaurant still survives to satisfy your frozen drinks habit.
 
Eventually the hotel will boast six infinity pools and a waterfall bar. For now you'll have to make do with two pools and decidedly non-aquatic saloons.
 
But as long as the drink are wet, that's all that counts.