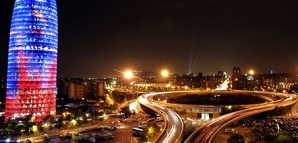 You would never wish ill on your Euro friends, but you're not exactly crying salt tears over a recent slide in their currency. So if you've been putting off that trans-Atlantic weekend, now would be your time—and luckily, Barcelona's newest skyscraper is waiting for you.

The ME Hotel, from the ME hotel group that's already introduced a new level of Latin luxury to Madrid and Cancun, has just opened in Barcelona—bringing thirty stories of panoramic-view lounges, Aztec-inspired spa treatments and expertly soundproofed rooms to the classically sculpted city.

Balmy and beautiful, Barcelona itself needs little introduction—an already cosmopolitan destination that's only grown hotter in recent months, with its cutting-edge architecture and ever-growing nightlife scene. And the ME has a bird's eye view of all the action. Just off historic corridor Las Ramblas, home to perhaps the world's best sangria-sipping, you're only steps from the cable cars of Parc Güell and the cartoonishly ornate Sagrada Familia cathedral...or from practicing your Catalan with the local beauties in the waterfront club district.

Because it can't all be ME time.