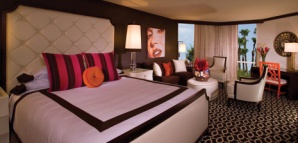 We love the city, but let's face it, we love leaving it even more. Hence Get Out of Dodge, which periodically hooks you up with the best weekend getaways just a short skip away. Get going...

If there's one thing you require in your weekend destinations, it's a bit of heat.
 
Which is what you'll likely find, given the blazing desert sun and all, at the new Riviera Resort & Spa in Palm Springs.
 
Our suggestion: Wrap your week up early and head for the open road. Upon arrival you'll find a mid-century-ish hideaway far from civilization (if we're calling Hollywood civilized now) that's been dusted off with about seventy million dollar bills. The new look keeps the important aspects of the '58 property intact—it's still a circle of mod-ness orbiting a giant pool. But now, in the former home of the ballroom where Sinatra once performed, you can get yourself a Balinese rubdown in the 12,000-square-foot spa (you can even call your masseuse Ol' Blue Eyes).
 
And you can't argue with what seems to be the biggest priority of the remodel—aside from all the gardens and patios and decked-out cabanas, the proprietors really want you to have lots of places to grab a drink. (Twist your arm.) After perusing the deep rum and tequila selection at the nobly named Bikini Bar by the pool, you can stroll in to the Starlite Lounge for some billiards, then maybe a nightcap at Sidebar, an offshoot of the Circa 59 restaurant. And then there's the more intimate bar scene in your suite's private patio...
 
Where the service is excellent.