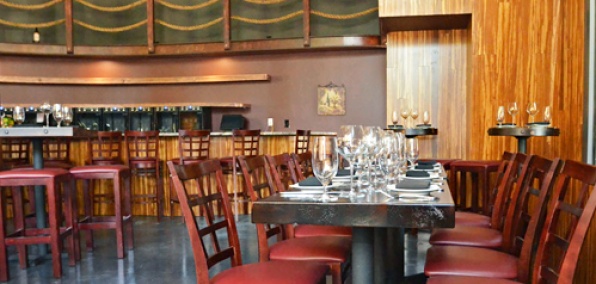 There are those spots you go to to get away from the office. Crank out a spreadsheet or two over a cup of coffee and no distractions.
Then there are those spots you hit after work, when you'd like to show your fetching new colleague that there's more to you than white papers and Q4 reports.
Sometimes, they can even be the same spot (no one has to know).
They're places like
Tel'Veh
, slated to open next Monday in Mount Vernon Square to serve both your AM and PM needs.
This spot feels like you're drinking on Jack Sparrow's ship. You'll sit at heavy, dark-wood communal tables, and if you face away from the semicircular row of windows, you'll be staring down a nautical-looking bar dominated by thick ropes and a catwalk loaded with wine racks.
By day, you'll want to grab a cup of Turkish coffee and maybe a croissant or a prosciutto sandwich while you work on your new novel on the later life of Jay Gatsby as a zombie killer.
But after 5pm, they'll fire up their wine-tap system, loaded with 48 wines by the glass (300 are available by the bottle), including some hard-to-find Greek and Turkish juice. On your plate:
Mediterranean bites
like watermelon and feta salad, and roasted lamb with blue cheese.
They'll even swab the decks for you when you're done.