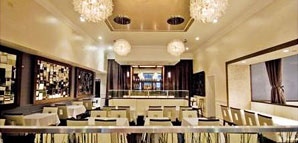 You can resist anything. Except, of course, a tease.

So let us introduce you to Eve, scheduled for a coquettish debut in the Gold Coast on Monday. But since any good vamp knows anticipation is always the best part, she's making you wait for dinner. The first week, it's lunch only.

This is good because we've heard you've been looking for a sexy little afternoon spot—you know, for that certain type of "business lunch" that never makes its way to your business calendar.

Plus, daytime options will give you a pretty good sense of what to expect in the evening. You'll snack on foie gras burgers served on bacon-cheddar buns, catfish po' boys and hoisin-glazed pork belly, all courtesy of the same crew behind Lincoln Square's surprise hit Tallulah.

Yet it's the dining rooms, smoldering in sultry silvers and grays and glittering with sparkly chandeliers, that will finally seduce you. If you need more of a discreet entrance, the loading dock will be set up to accept VIPs who don't want to parade through the dining room.

You may want to start at the bar with one of the basil/ginger-infused vodkas, though Eve's Apple (cinnamon-muddled bourbon with brandied cherries, chervil, brown sugar, orange juice and apple cider) might be best saved for dessert.

The kind you have before the main dish.