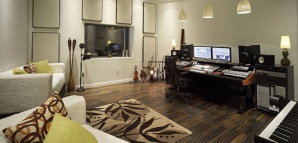 You are a guitar hero. No one's going to argue with that. And you've been known to deliver a fierce "Welcome to the Jungle" when the karaoke occasion calls for it.

But it's about time you explored your recording potential. And that's where Honor Roll Music comes in.

Recently opened by two friends with an impressive track record in the recording industry (they're responsible for Vanessa Hudgens' debut album), the studio, located in a warehouse in Little Haiti, is a creative hub in Miami, attracting aspiring DJs, indie-rockers and belting vocalists to its wood-paneled facilities.

When they're not busy scoring films like Cocaine Cowboys II (you passed on a cameo in that) and commercials for Burger King (those too), the owners help guide you through the three recording hubs, editing/mixing suites and ample rehearsal space for you and your bandmates. There are also plenty of quirky touches, like a tiny hallway that leads to a small space for a drum kit, or stacks of vinyl LPs just begging to be flipped through for inspiration.

When you're not laying down your newest track, you can always kick back in a sleek "living room" complete with a huge projection television and premium stereo system.

And plenty of room for a muse or two.