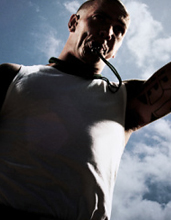 The Olympics.
They're right around the corner.
So we think it's time you familiarize yourself with all of the events. And by
familiarize yourself with
, we mean
master
.
Obviously, you'll need a few instructors...
Introducing
CoachUp
, a brand-new site for finding and hiring a local Red Auerbach for the sport of your choosing, launching today in Boston.
Devised by a Cambridge-born former professional basketball player (in Israel), this is basically like Match.com for sports, sourcing professional coaches and trainers for you to spruce up your game, whatever it may be.
So let's say your too-fit-for-his-age boss barges into your office and informs you that your salary review discussion in two weeks will take place at his house. On his home squash court. After looking up what squash actually is, you'll go to this site, scroll through the available coaches and book one. Then, you'll crush a bunch of returns against your boss... but not too many (and if you don't, they'll refund your money and put it toward another coach).
About those coaches: they include the head squash man from Tufts University, a former New England Revolution player, a Boston College golf instructor, the US badminton coach and even a tennis trainer who once beat Andre Agassi in a friendly match.
No, not Steffi Graf.