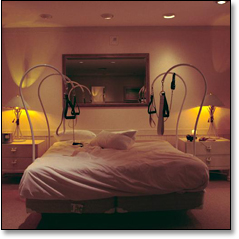 California might be a tried-and-true blue state, but you never know. It could always swing.  
Depending, of course, on your definition of swinging. Take a look, if you dare, at
America Swings
—an eye-popping new photo exhibit debuting Saturday in
West Hollywood.
 
You have to respect photographer Naomi Harris for her bravery—to earn the trust of the sexual revolutionaries she shot, she entered their lairs wearing shoes, a tool belt...and that's pretty much it. (Might want to give it a try in your next corporate meeting.) And if you're imagining photos filled with alluring, buxom blondes, resembling Hef's pad on a good night—or, you know, your place last weekend—feel free to continue pondering the vision at length, but just know that it's not quite in line with Harris' grittier snapshots. (You'll see.)
 
If you and your open-minded date feel like a little experimentation (not just dinner and a movie—you're wild like that), drop by the opening Saturday night to talk shop with Harris about the multi-orgasmic teachers, bisexual seniors and real-life naughty nurses she met in swimming pools, trailer parks and living rooms all across this great nation. You might feel like you need a shower afterward...
 
But your date might feel the same way.