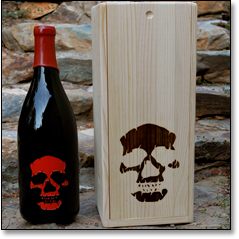 Because adorable rabbits and little penguins belong in children's books, the only wines you judge by the label have words like "1992 Lafite Rothschild" written on them. Though when it's this close to Halloween, you do find yourself intrigued by a mystery...
That's why we're glad we've discovered a stash of
River
of Skulls
, a wine from Calaveras County, California, with a spooky blood-red skull on the label and a backstory as juicy as its grapes.
The name references the macabre origins of the region. After a Spanish surveyor discovered scores of human skulls in the riverbanks, he named it Rio de Calaveras—aka, River of Skulls. (How all those bones got there is best left for a future episode of
CSI: Wine Country
.)
When quirky Twisted Oak winery adopted the ghoulish name for this limited production last year, it became an instant cult hit. The wine is mostly Mourvedre (with a touch of Syrah), with lots of cherry notes, leather and hints of tobacco. Most of this year's 200 cases were snapped up by members of the winery's mailing list, though Lush Wine and Spirits secured four cases for Chicago—but they're going fast.
Twisted Oak also plans to ship twenty double magnums to Chicago soon. This bottle, which stands almost two feet tall, comes in a simple box branded with the skull logo.
Don't let the similarity to a coffin scare you.