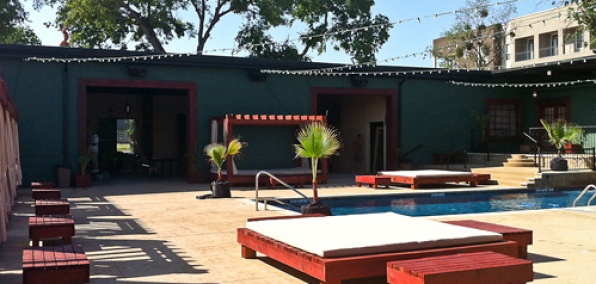 The back alley of a sports bar.

Great place to find trouble, chicken wing bones, empty beer bottles and framed Shawn Bradley jerseys.

Also, great place to hide an in-ground heated pool with a waterfall.

Meet Ku De Ta, the incredibly secret swimming hole located between Three Sheets and the soon-to-debut Southern Comforts, opening this summer for members only.

Soon, a day will come (perhaps after the playoffs) when you'll be ready to turn in your flat-screen-adjacent bar stool for a deep-end-adjacent chaise lounge. That's when you'll head here: a cabana-ringed/DJ-equipped oasis that's down a dirt path, behind an iron gate and right in the sun. Bask. Then order something frozen.

We recommend getting comfortable up on the elevated sundeck. We also recommend the Overnight Pulled Pork Sliders, the fresh raspberry Ku De Ta Margaritas, using SPF 30 for your face and waiting at least 30 to 45 minutes between slider and swimming.

Of course, before you can even access the Shangri-La of sports bar back lots, you'll need a membership. And the ones here, they can't be bought. Or borrowed. Only earned. Their self-styled motto is "You cannot find memberships... the memberships find you."

You know, sort of like the tooth fairy.
Note:
Ku De Ta, opening this summer for members only