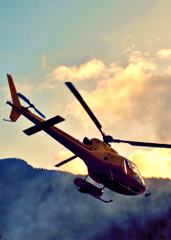 Well.
Here we are.
Just you and us. Hanging out. Gearing up for a big week or whatever.
Good stuff.
Anyway, pack your bags. You're going to Vail to shoot guns the size of Danny DeVito out of the side of a government-issued attack helicopter.
Fix your aim on the Sebastian Hotel Machine Gun Tour, an amazingly named pilgrimage into the Rocky Mountains that involves you, three nights in a Vail resort and going full John J. Rambo in a military gunship, accepting reservations now.
Here's how we see this whole thing panning out. First, you'll check in at the Sebastian Hotel. You remember the place. That big, shiny, fireplace-y spot in the heart of Vail Village with the adults-only hot tubs and an ice-themed bar with a propensity for scotch. Take it all in. Get involved.

But soon enough, you'll feel it. That itch. That inexplicable urge to have a car service pick you up and drive you out to a private valley in the middle of nowhere.

Note: this is an awkward urge.

Still... go with it. Because that car will be taking you to a Vietnam-era military surplus Huey helicopter. And when that helicopter leaves the ground, you will be pumping round after ear-shattering round from a full-auto, mounted M60 machine gun into the valley below.

Après-battle: now a thing.