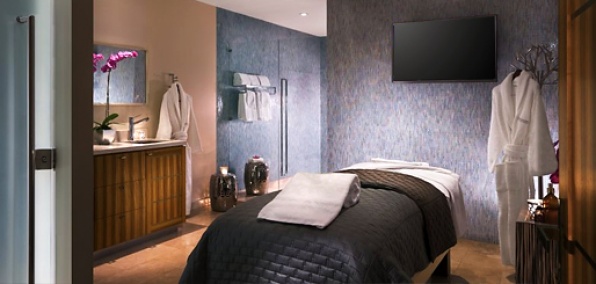 In terms of rock history, there's something magical about the Sunset Strip.
The Roxy. The Whisky. That place all the keyboard players go for a covert manicure...
Introducing
Rockstar Spa Services
, a new set of rubdowns, facials and tune-up treatments to get rock stars ready for the stage, available now at the Sunset Marquis.
First, the hotel itself: it's the kind of place with a full-on recording studio in the basement. A place where that hurricane of a blonde woman who kind of looks like Courtney Love... is probably Courtney Love. So yeah,
they know all about bassists' cuticles here
.
If you're singing some new material at the Viper Room (or the karaoke bar) tomorrow, you'll want the
Pipe Cleaner
, a mix of acupuncture and head massage meant to open up your vocal cords. If your drum solo's feeling a little off and the video shoot is tomorrow, maybe the
Pick Up
, which focuses on arms, shoulders and hands. And throw in the
Strum
—a manicure to get those chipped nails camera-ready. (These days, rock star concerns have... evolved.)
But if you're just feeling a general lack of inspiration, go for the head-to-toe
Body Tune
, wherein you'll get rubbed down with a bunch of hot rocks—then they'll pour you a shot of scotch.
This should really amp you up for a meeting with accounting.