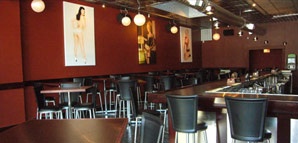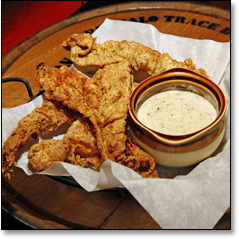 Rattlesnake kabobs. Fugu tartare. Burgers at Bar Louie. You used to live dangerously. But lately we've seen you indulging at spots so refined, you stand a greater chance of being smothered by one of the bolster pillows.
Let's get back to the culinary edge for a moment, shall we? Introducing
Country-Fried Bacon
at Risqué Café, a dish so heart-cloggingly decadent, it looks America's obesity problem in the eye and laughs.
The offering is the creation of Andrew Niemeyer, the Wrigleyville chef who apparently considers that staple of the American truck stop—chicken-fried steak—something for health nuts. While his version keeps the peppered-flour batter of the traditional recipe, pork now understudies the poultry—and like the best Broadway debuts, a star is born.
Bite into one of your five lengthy strips, and the initial peppery crunch gives way to the chewy, salty and outrageously smoky bacon. If your thoughts don't immediately race to visions of spiked EKGs or your next cholesterol screening, something must be wrong.
Try dipping into the accompanying crock of country gravy.
That should fix it.