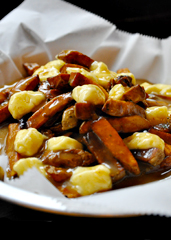 Brunch.
No offense to your personal biscuit maker, but we think you can be doing better.
But that requires preparation. Which, in this case, means buying vodka.
Welcome to the
BYOV Brunch at BadHappy Poutine Shop
, now shaking up your Sunday afternoons, Russian-Canuck-style.
No doubt you've heard rumblings about this little joint. Word tends to get around when a shop opens with a mission involving things like PBR gravy, cheese curds and french fries. But after the din of people clamoring for pork-belly frites and birthday-cake milkshakes dies down on Saturday night, Sundays, it turns out, are now worthy of a little din as well.
Roll in here around noon with an ice-cold bottle of something triple-filtered. You'll be presented with a couple of options for mixing: a spicy Bloody Mary served with a sausage-wrapped french fry, or a
Mudslide Milkshake
—vanilla, chocolate and a hint of coffee. We assume you can convince them to throw a frite in there, too.
In terms of food, your brunch is
honed down to the essentials
:
Poutine Benny
, with a poached egg over fries, foie gras hollandaise, housemade bacon and truffle mayo; chicken and waffles served with a maple-Tabasco glaze; and Southern-style biscuits and gravy with a fried egg. Well, there's also a granola parfait with fresh fruit.
Just pretend you didn't see it.