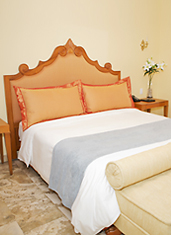 It's not something you can talk about.
But you've got to get off the grid. Now.
Someplace quiet, a bit out of sight and touched by the... not-so-subtle spirit of Gianni Versace.
Say hello to the fully renovated
Impala Hotel
, an incognito Mediterranean getaway off of Collins Avenue, now open steps from South Beach.
This is where Versace took his family and friends when the party at his Ocean Drive manse went over capacity, and the place is just as restrained as you'd expect. Which is to say, not at all: there's a gurgling hand-painted fountain and a glass mural of the Empress Theodora designed by Christian Lacroix. Also, the lobby floor has a mosaic of the sun that was originally intended for the Versace mansion. (So a really ornate hand-me-down.)
The location: a former condo discreetly tucked away on Collins. The decor: inspired by cliffside hotels on the Amalfi Coast—coral rock vanities, wrought-iron closets and warm colors everywhere. Also, windows that block noise coming in... or going out.
You can order room service directly from Spiga, the 13-year-old Italian restaurant on the ground floor. So say you've whisked away that Brazilian flip-flop heiress for some covert frolicking. You can have an order of quadretti with portobello mushrooms and truffle oil delivered directly to your room.
What you do with the oil is up to you.