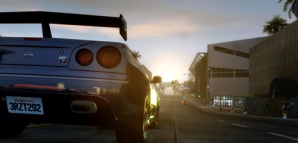 For every seemingly impossible problem—the economy, not yet having Olga Kurylenko's number, LA traffic—there's a solution. You know it.
As for the traffic, well, the roads are wide open if you're playing the surprisingly lifelike new game called
Midnight Club: Los Angeles
.
You might think you're above being impressed by, you know, a video game, but in these times there's a certain appeal to roaring away from the Chateau Marmont in your fully customized Aston Martin V8 or Kawasaki Ninja ZX-14...without actually having dropped the money to procure said roadster. As you take to the open streets, filled only with the occasional sap who thinks he can take you, you'll find endless courses taking your smoking tires past Pink's, the Chinese Theatre and, if things get especially hairy, over the Santa Monica Pier. (Haven't gotten away with that in the real world...yet.)
As a native, you'll notice a couple missing details (what do you know, you kind of miss Fountain Avenue), but welcome improvements include the ability to get from Mulholland Drive to Downtown in a couple of minutes, and the nimble pedestrians who automatically dive out of your way.
Which is all you've ever asked of them.