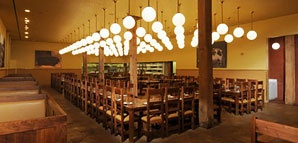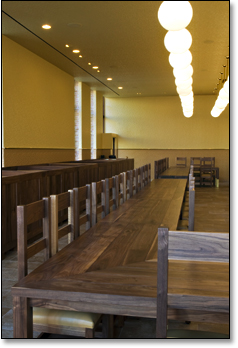 After years of pre-press about
The Publican
, you were an expert on the place before it served its first Coromandel oyster at last night's debut. Of course, the promise of fresh oysters, pork and beer from the guys behind Avec and Blackbird does grab one's attention. So by now, you might have heard that...
• There are six kinds of oysters. You probably won't even need to read the menu's tasting remarks to know the Coromandel have notes of briny watermelon.
• You can hold court like
Jonathan Rhys Meyers
as Henry VIII at the football field-sized communal
Grand Table
. (When you're wooing Katherine, Catherine, Anne and Anne, you'll retire to one of the snug enclosed booths.)
• The beer list reads like a European travelogue, though you won't mind staying close to home with
Goose Island's Bourbon County Stout
.
• There are pork rinds, tripe and blood sausage,
Crispy Sweetbread Schnitzel
and even a ham flight. That's right, a flight of ham.
Yet one juicy tidbit has escaped all the glare: The restaurant is now accepting reservations for Sundays, when it goes entirely prix-fixe with a giant shareable family-style feast. This week, $45 gets you three courses, including porchetta,
Spicy Apple Salad
and something raspberry tart-ish. Future Sundays may feature a whole roast pig, but no one's saying when.
That's okay, you love a little mystery.