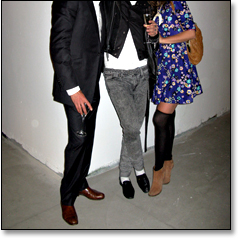 You know Miami is doing something right when New York artists start opening up shop down here and colonizing uncharted areas of the burgeoning arts district.
And you've always been a fan of greater burgeoning...
Introducing
O.H.W.O.W
., a new gallery opening this Saturday on the outskirts of Wynwood, and soon to be your go-to spot for funky art and funkier art times.
The brainchild of a local collector and a New York downtown culture maven, O.H.W.O.W (Our House West of Wynwood) is your new home for art exhibits, book readings, musical performances and, maybe most relevant, parties.
The all-white gallery is located on a desolate stretch of warehouse buildings west of the gallery district in Wynwood. The space includes a DJ booth, a video projection room and a pop-up store selling artists' prints and T-shirts. (Your body: the ultimate picture frame.)
If you're curious to take a peek inside, they're kicking things off with an exhibit and concert tomorrow night. The inaugural show, called
Rostarr: Wreckless Abandon
, features the work of South Korea-born/New York-based artist Romon Kimin Yang, who defines his trippy geometrical designs as "Graphysics."
We're not sure what that means, but we think it'll look good on your chest.